Developer says development of Chatteris Wenny Meadow will lead to loss of biodiversity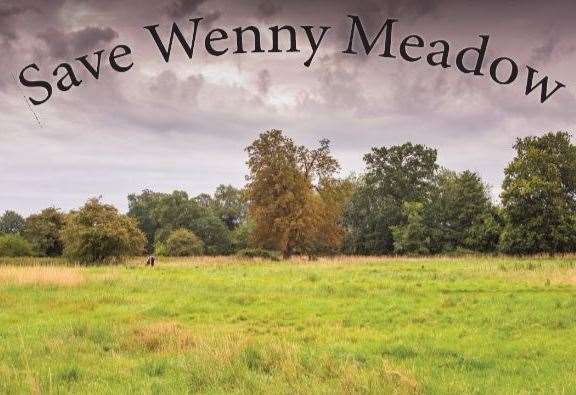 A property developer said the construction of 93 homes on Chatteris' former Manor Park, now known locally as 'Wenny Meadow', 'will result in a potential net loss of biodiversity'.
In an assessment of net biodiversity gain, commissioned by Fenland District Council, the proponent's ecologist pointed out that even after the mitigation and habitat enhancement works have been completed, there will be a small loss of biodiversity that will have to be compensated by "offsetting" the scheme with improvements in biodiversity elsewhere.
The meadow is home to eleven British 'priority species' of birds, bats and reptiles. The ten species of bats found in the meadow are considered protected species.
The meadow is also home to a rare species of false scorpion, found only in a few sites across the country, such as Windsor Park and Sherwood Forest. Speaking at the time of the discovery, Professor Brian Eversham, CEO of the Cambridgeshire branch of The Wildlife Trust, said 'invertebrate habitat will not survive fragmentation' caused by development.
National planning policies state that local planners "should promote the conservation, restoration and enhancement of priority habitats, ecological networks and the protection and recovery of priority species".
Fenland's local plan says council will refuse permission for "developments which would cause demonstrable harm to a protected habitat or species unless the public need and benefit of the development clearly outweighs the harm and that mitigation and/or compensation measures can be guaranteed to offset the damage and achieve, if possible, a net gain in biodiversity".
Campaigners from the Save Wenny Road Meadow campaign say these protections should be applied to Wenny Meadow. They say the developer appears to have misclassified existing habitat types as "enhanced grassland", giving them a lower classification in biodiversity assessments than that recorded by the Cambridgeshire and Peterborough Environmental Records Centre.
Campaigners have also pointed out that biodiversity loss would be even greater if the developer's Ecological Management Plan, which outlines how Canon Kirk will improve the ecology of the development after construction, fails to deliver the benefits it promises.
Save Wenny Road Meadow campaign member Kirsty Patterson said: 'The mitigation measures suggested by the developer are designed to charm the planning committee into approving the development, but are fanciful at best. a fairy tale to expect these mitigation measures to be maintained for the 30 years required by best management practice and the council wildlife officer.
"The Ecological Management Plan relies on the establishment of a management company to carry out the works, but only describes seven years of maintenance without explaining how this will be financed. It is inadmissible that the developer still foresees a loss of biodiversity, even with these unrealistic and inadequate mitigations. It just proves that Wenny Meadow habitats are valuable and irreplaceable, even when assessed in a report commissioned by the developers. This site is completely unsuitable for development.
---
---