East Meadow retains VSC | Herald Community Newspapers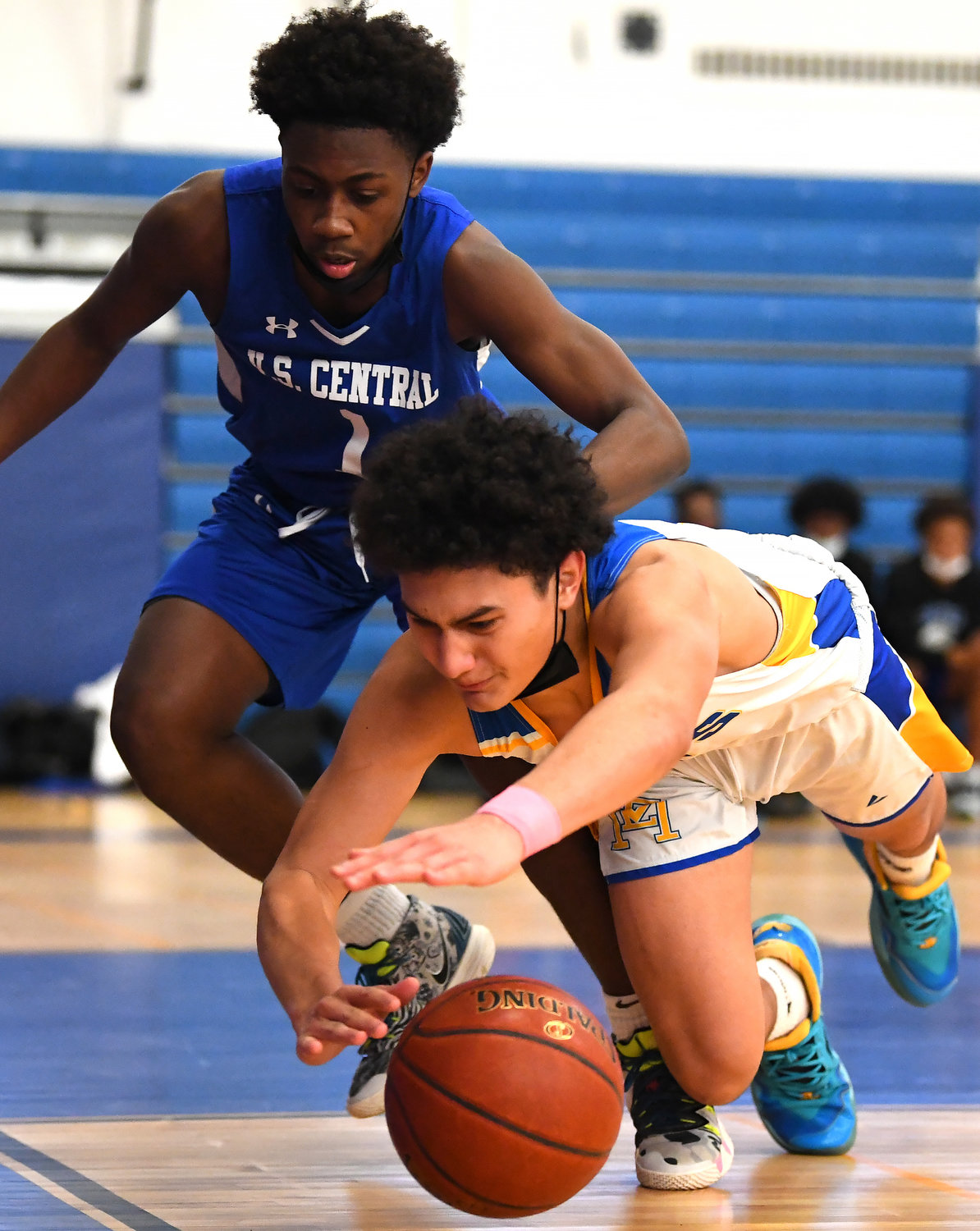 The East Meadow men's basketball team begins to gain traction.
After being inactive for two weeks and picking up a pair of non-league wins using just five bodies, the Jets have won back-to-back games against Nassau AA-II Conference rivals in less than 24 hours, including a triumph at 48-42 home against Valley Stream Central last Saturday afternoon.
"It wasn't pretty, but we made opportune plays when we needed it," head coach Tom Rottkamp said after East Meadow's fourth straight win took his overall record to 5-6 . "The kids were a little tired after last night and they got caught up in the pace of Valley Stream for a while," he added. "But we made some good decisions late in a tight, physical game and that's a sign the confidence is really growing."
Like the Jets, Central was also coming off a win the night before. However, the Eagles (2-6 on aggregate) were unable to maintain momentum after knocking Westbury down largely due to shooting problems from inside the paint and from the foul line. They missed 10 free throws in the first three quarters but were still within striking range all afternoon.
"When the ball goes into the basket, there's nothing anyone can do," Central head coach Tim O'Hagan said. "I think we moved the ball well and had a good look and good attempts. It was just one of those games where we couldn't drop the ball. It's frustrating."
Junior Jayden Henriquez scored 11 of his 17 points in the first half to help East Meadow hold on to a 26-19 lead at intermission after Central scored 10 of the game's first 15 points. Henriquez was the Jets' only double-digit scorer a day after Frank DeStephano (17), senior Jared Shary (14) and junior Manjot Singh (10) did so in a blowout win over Hicksville.
"Jayden hit some nice threes in the first half and that made them defend him differently, but then he drove aggressively to the basket in the second half and was effective," Rottkamp said of Henriquez. .
Seniors Malik Moore (12) and Jayden Vera (10) led a balanced if inconsistent central attack. Moore (24) and junior Dylan Madden (26) accounted for almost all of his output in last Friday's 60-51 win over Westbury.
"There are times when we do really good things and times when we don't," O'Hagan said. "The one thing about these kids is that they are very resilient. We suffered tough defeats and they always react the next day in training.
The Eagles were trailing 39-29 after Shary opened the fourth quarter with a three-pointer, but pulled away and made it a one-possession game with 3:33 remaining. Then Shary, senior Shawn Haber and DeStephano all hit clutch shots down the stretch to secure the win.
"We opened the season 1-6 and three of those losses were conference games, so it's good to turn things around," Rottkamp said. "We still have a way to go, but we are in much better shape than two weeks ago."