'Grandpa Kevin' loves Pine Meadow students and teachers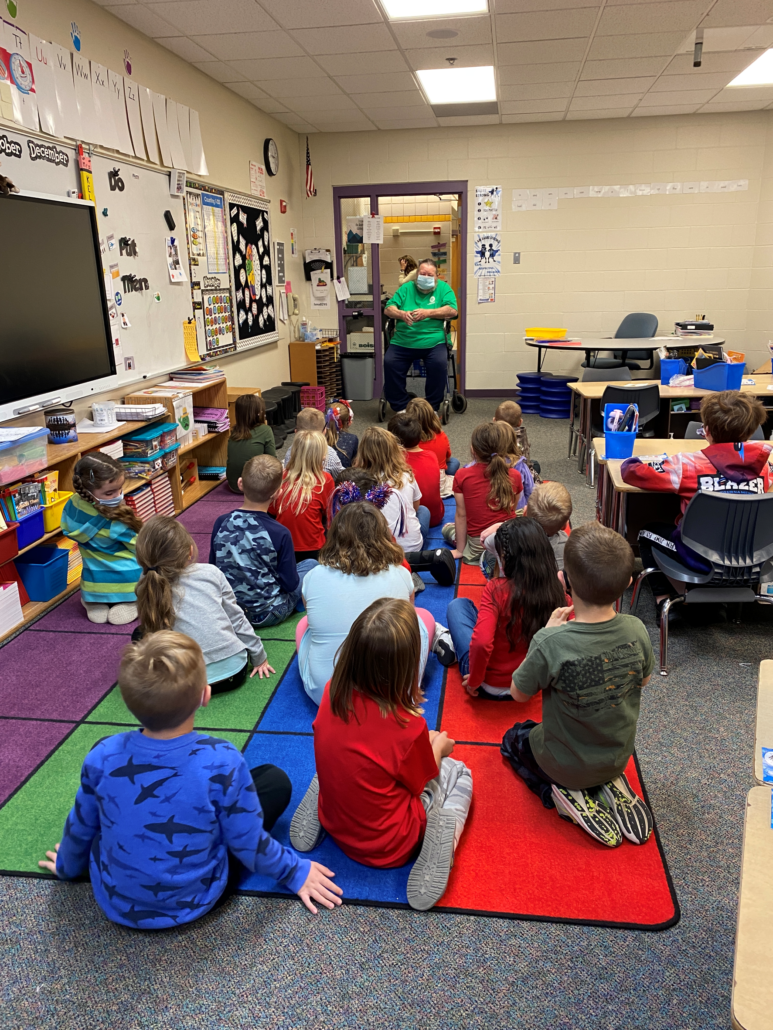 by Dennis Dalman
After five years of volunteering as an "adoptive grandparent" at Pine Meadow Elementary School in Sartell, Kevin McCarthy is loved by the students, who call him "Grandpa Kevin," and he loves them all (as well as teachers) as well.
During an interview with the Sartell-St. Stephen Newsleader, McCarthy, 74, who lives in St. Joseph, offered big bouquets of praise.
"I love it," he said. "The children love coming to talk to me. They love talking with me. I'm amazed at how much these kids are learning even in first grade. They are almost always happy and everyone is always in a good mood. I treat them like my own children. Every child is completely different. Like snowflakes, no two are the same."
The students, he said, seem to thrive on the one-on-one contact they have with "Grandpa McCarthy" — the kind of contact busy teachers can't always provide.
In McCarthy's view, teachers are overworked and underpaid.
"All the work they do – most people have no idea," he said. "In addition to their classroom teaching, they have a lot of meetings that they have to attend. They work so hard, and so do the (other) staff and assistants. Some teachers use their own money to buy supplies, such as those for art projects.
McCarthy works with first graders four days a week with 11 classes of students, spending half an hour in each, usually in the hallway, helping two or three students at a time — sometimes more. He has lunch with the teachers. The size of the classes per room varies between 20 and 25 children.
"I do whatever the teachers need me to do," he said. "Helping children with reading or math or helping them with homework. And I go to different areas of school to help with art and science. I spend one day a week at the library.
McCarthy is a member of the Foster Grandparent Program of Catholic Charities.
In 2017, his wife, Linda, died of a heart attack. Feeling devastated, alone and restless, McCarthy sought some kind of social connection.
"I was retired and a bit adrift," he said. "I mean, how often can you go fishing or golf? »
One day, he was leafing through a magazine in a clinic while waiting for the doctor when he saw an advertisement for the Foster Grandparent program. This piqued his interest instantly, in part because in the early 1990s he had been a substitute teacher and helped fill in, receiving calls for his service from a wide area.
He applied for the Foster Grandparent program and after a background check and some training, he found himself happily helping out at Pine Meadow.
Raised in Albany, McCarthy studied economics at St. Cloud State University. He worked for the Social Security Administration, then in the maintenance department of St. Cloud Fingerhut. He also served in the United States Navy for four years, stationed near Turkey and then in Italy.
He has two sons, Gary and Brian, a daughter Megan, eight grandchildren and a great-grandchild. Her eldest daughter, Tiffany, died four years ago at the age of 42 due to an illness that caused her organs to shut down.
Tragedies and setbacks infused McCarthy with expansive compassion, especially for children. Divorce, for example, can cause such sadness in children when they don't understand why, while one week they live with their father, the next week with their mother. He said he vividly remembers a boy whose family moved to Sartell from Minneapolis. He had trouble adjusting and could barely recite the alphabet. Together, he and the child worked an hour a day on reading, and as winter approached, the proud boy could read very well.
"At the end of a day, I may be tired," McCarthy said, "but I feel good knowing I've helped the kids and the teachers. They have such a tough job and they work hard – really hard – to teach, in addition to getting kids to socialize, to accept discipline, to keep them on track I wish there were more older people volunteering as grown-ups -adoptive parents.They are so needed.
The program
Like McCarthy, Sara Heurung also wants more volunteers. Heurung is the Catholic Charities Supervisor for East Stearns and West Benton counties.
Currently, in a 16-county region of central Minnesota, there are 172 volunteer foster grandparents. Some schools don't have one.
"We would like to have 172 more," Heurung said.
Volunteers must be 55 or older, pass background checks and complete a basic training program. There are tax-free allowances for seniors who qualify due to financial need.
Volunteers work with children at more than 200 sites: in schools, after-school programs, the Reach Up Head Start program, nonprofit daycares, and the "YES Network," which provides lunches for children in the summer as well as activities in parks.
"So many intergenerational contacts are formed," Heurung said. "And the volunteers also help to relieve the teachers."
Heurung often visits these sites to see firsthand what a difference adoptive grandparents make to students and teachers.
She hopes seniors will sign up for the program so they can be trained and ready later or for next year. They can choose their sites and be assigned only to schools or programs suited to their own skills, talents and comfort levels. In some places they may also work with teenage students.
The Foster Grandparent program began nationally and locally in 1965 as part of President Lyndon Johnson's massive War on Poverty initiative.
To learn more about the program, visit the Catholic Charities website at ccstcloud.org and click on "Community Services."