Meadow to Market Flower Shop Sets Up in Montgomery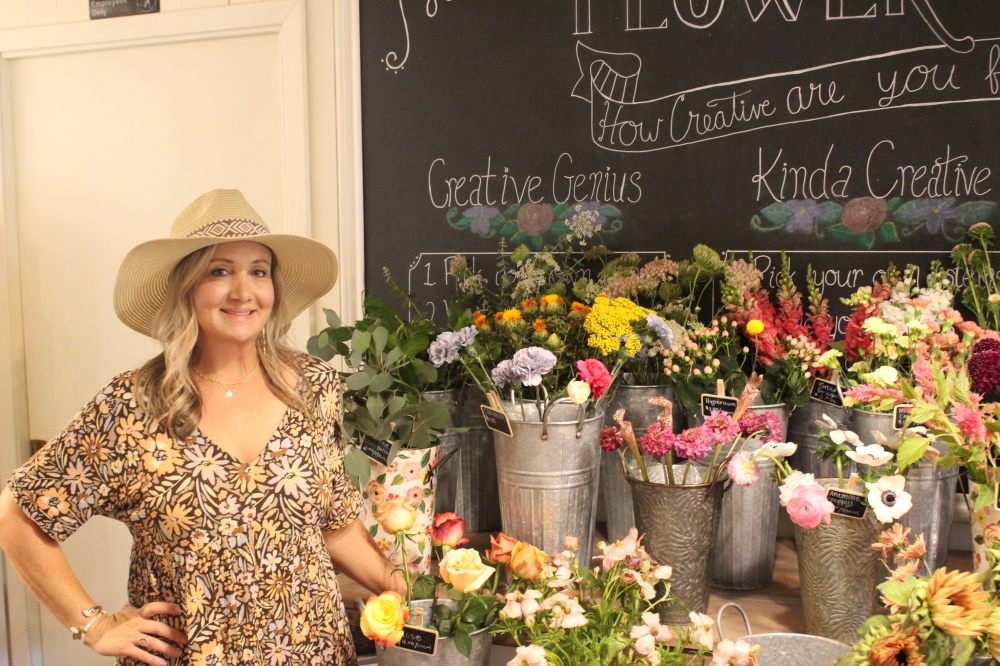 Growing up, Angie Hines always had a fascination with flowers. After years of dreaming of opening a flower shop, she opened Meadow to Market on September 11. Hines said she was not a trained florist but discovered new flowers every day.
"Ever since I was little, that was my favorite thing to do — making bouquets," Hines said. "We lived in a very rural part of Oklahoma, where all I had around was pasture, … so it was pretty easy to find flowers to make bouquets."
Out of her passion, she opened the Montgomery Boutique and is learning as she goes, she says.
"I said to myself, 'I don't have time to [open the shop],' … but my husband said, 'Are you going to do it or talk about it for the next 20 years?' "said Hines.
The company offers a range of flowers in rotation. Daily flowers can include peonies, ranunculus and poppies as well as an assortment of filler flowers. About 25% of the flowers in the shop are grown locally, depending on the time of year. Hines said she hopes in the future more than 75% will be grown locally.
At the boutique, customers can select pre-made bouquets that come in small, medium or large assortments. A make-it-yourself bouquet bar is also offered where guests select their flowers with the option of purchasing a vase or hand-tying them. Other items are also sold in the store, such as shirts, candles, jams, and other trinkets.
"We always try to stock unique flowers, something you won't find in a grocery store," Hines said.
Hines said she wanted to reinforce the home environment provided by the property, which prompted her to seek out food trucks or coffee vendors. Three months after opening Meadow to Market, she began a partnership with Wilderlove Coffee, which sells coffee on the lawn. Hines said she hopes to expand the store in the future and plans to hold more events.
"I knew I wanted some sort of food or drink vendor…a bakery truck, maybe sweet and savory pancakes, but I was always looking for someone to fill that spot," Hines said.
From the meadow to the market
20823 FM 2854, Montgomery
936-217-9343
Hours: Mon.-Sat. 10am-6pm, closed Sun.